Quality architectural work is no easy operation. It has been estimated that approximately 3,000 product decisions are required on the average building construction project. The thousands of details covering every square inch of a building means professionals need to be "in the know" about everything from engineering to interior design.
For many architects, the limits of the formal training they receive on Sound (STC), SHGC, U-Values and DP ratings of windows creates no small task when choosing windows. Without outside help, it is all but impossible to stay current on the subtleties of windows: the sizes, colors, cost and how windows influence the structure, function and beauty of a building. Throw in the numerous differences in what states require and ever-improving technologies developed by manufacturers, and the idea of staying on top of things is even more daunting.
Amsco Windows, led by the company's architectural consultant and corporate training director Brent Mangum, works hard to shrink the education gap conveniently and efficiently.
"We want to inform and support the architects, so we go to them and do an AIA/AAMA 'lunch-and-learn' class, which helps them understand what makes up a specification for windows using performance standards," Mangum said. "The class is broken up into easy-to-follow segments covering structural requirements, water penetration and air leakage.
Mangum and his team work directly with their distributors and contractors to give them the information provided by the architects that they will need to make timely, efficient decisions that may help lower costs and will certainly reduce the time delays many professionals experience. And, while Mangum believes that Amsco Windows has many products to provide those outcomes, it isn't about making the hard sale. In fact, during the AIA/AAMA class, the information is set and selling or promoting company products is not allowed. Mangum is fine with that.
"We believe that when they learn more about windows, specifying, service and support, they will see that we are a great option," he said. "But, just as important, we want to be a valuable industry partner to the architectural firms we work with."
The latest examples of how Amsco Windows adds value to architects around the country are the company's two software offerings that make innovative design easier.

The first is the "Spec Finder" — available through the company's website under "Pros" — that outlines the specifications of all of Amsco's product lines, enabling quicker and more accurate product decision making.
The game-changer for Amsco is the new Aspire software plug-in in the final stages of development and testing. Aspire — a plug-in available in the coming weeks to partners by contacting Amsco Windows directly — is a design tool that integrates with Revit and allows for real-time parameters and pricing that makes designing for the best looking, cost-efficient and highest functioning windows a breeze. The plug-in enables architects to enter the specifications of a specific job and then be quickly pointed to products in the Amsco line that meet those sometimes challenging requirements.
"We have architectural firms that are excited to be part of that development process," Mangum said. "We've presented it to a few firms, and they are eagerly awaiting its completion and have asked to be included in the beta process."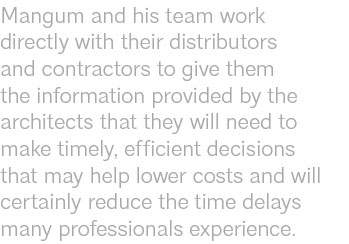 When the software launches, the Aspire plug-in will provide information in real time about the size the window can be built along with the energy efficiency (SHGC), thermal (U-Values), sound (STC ratings) and design pressure (DP rating) ratings.
It also offers real-time pricing, comparing various lines and colors.
"All of these parameters and differences in performance and color can — and have — caused a lot of confusion and time delays most architects struggle with from time to time," Mangum said. "We want to make those struggles a thing of the past."
This free plug-in is the latest evidence of Amsco Windows' desire to be an industry expert ready to help architectural professionals. And the company thinks it will be a game-changer.
"Every company is looking for something that will set them apart from the competition," Mangum said. "This computer software will separate us. If you don't offer more than the product, you're simply a commodity. But, with this software and the training we offer, we're a true industry partner for our architect partners."