There's no question the pandemic-impacted economy can be a daunting prospect for job seekers. Not since the Great Recession of 2007 — 2009 have new graduates faced so much uncertainty in the job market. Who better to advise the class of 2020 than those who have been there: architecture professionals who started careers during the height of the previous recession?
In a recent webinar, AIA brought together four panelists to share their tips. Based on their experiences, Abi Brown, Donald Mouch, So Young Lee, and Jonathan Tolbert shared various practical strategies for boosting career resilience.
Whether you're a recent graduate or a seasoned professional, these tips can help build career resilience to withstand economic uncertainty, employment changes, project setbacks, firm mergers, family priorities and other challenges.
Never underestimate your network
Stay connected with professors, classmates, friends, family, extended community, alumni; you never know who in your network will have a pivotal connection if they know you're looking.
Use LinkedIn and social media to keep tabs on where people are and what they're doing.
Be upfront when looking for a new job, and help others in
their search.
Don't hesitate to reach out to professors, even if you weren't close. Remember: your school wants you to succeed.
Reach out to career services, alumni networks, and local AIA chapters to ask for help, request a mentor, or reengage when you need encouragement.
Stay involved
Participate in design competitions to sharpen your design skills individually or with a team of friends and you may even win!
Use competitions and events to supplement your portfolio with new building typologies to broaden your experience.
Take advantage of your student discount to attend events and conferences (as evolving social distancing guidelines allow).
Volunteer with AIA, Open Architecture Collaborative, USGBC, Urban Land Institute, and others to extend your network within the profession and stay engaged if you're working in a different field.
Keep pursuing your license to maximize your marketability.
Be flexible and think outside the biz
Expand your search to different sectors, different size firms and new locations. Don't be afraid to relocate for the right opportunity or ask if remote work is an option to save moving expenses.
Consider an architecture-adjacent position. An internship for city government, a job in real estate or facility management, a display designer in retail or museums — even non-architecture positions can help you develop valuable skills. Panelists who accepted positions like these during their job search gained experience in software (drafting/rendering) skills, contracts, budgeting, marketing, communication, customer service, and more that provided a leg up in interviews.
Let your boss and colleagues know your long-term goals, so some tasks and experiences can support where you want to go.
Ask the right questions and be strategic
Bring your questions to an interview and decide if the firm has a culture you want to join.
Questions about how the firm handled the previous recession, and the current economic uncertainty can tell you a lot about the culture.
If you need a visa, if you need a certain salary, if you need flexibility, be honest throughout the interview process and seek out positions that will meet your needs.
If you need the job to pay the bills, then continue your job search once employed. It's OK to change jobs if the fit is not right!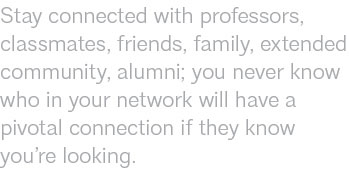 Persistence pays off
Send lots of resumes! It's a game of odds and eventually, your resume will arrive at the firm that needs someone just like you.
Seek informational interviews. Even if a firm isn't hiring, you can learn valuable information and make critical contacts. Plus, they may know someone else that is hiring or they'll remember your tenacity when they are ready to hire.
Show you are ready to learn and work and you will be a great colleague. Everyone has had to look for a new job before, and they know what you are going through. Don't give up — but promote what makes you unique and perfect for the job!
Remember — you aren't the first to be looking for a job in tough times, and you won't be the last. Take charge of your search (it is a job in itself), and learn from any rejections. You have unique skills someone will need, so go for it! Good luck!
AIA Workforce Development & Strategy